Photographer in Residence at Sheffield Children's Hospital 1996
These portraits were taken as part of a 6 month photographic residency at Sheffield Children's Hospital during 1996, from which a small selection are reproduced here. The photographs formed part of a publicity campaign called the 'Children's Appeal', which aimed to raise awareness to the work of the hospital and in turn generate funds for the hospital's charity the 'Chris Fund'.
An enhanced Criminal Records Bureau check was required before I started the residency.
The residency was instigated by Richard Jarman executive director of the Children's Appeal. Many thanks for his direction, support and enthusiasm during the residency.
My other duties during the residency included supplying all photography for the hospitals PR department, provide images to illustrate brochures and leaflets for the various medical and technical departments plus numerous department staff portraits. I also photographed staff retirement parties and even an image for the hospital's Christmas card, I was also on call for any other requests at any time.
A condition of the residency was that it was essential to obtain written permission from the parent or guardian of the child that I wished to photograph before the photograph was taken. However some parents wanted their child to be photographed and included in the exhibition but not named in the caption. Additionally the use of flash photography was not to be used as seizures can be triggered by children who suffer from photosensitive epilepsy.
The resulting photographs were exhibited at Sheffield Children's Hospital and the Graves Art Gallery, Sheffield.
The following poem was kindly written by Barnsley poet Ian Macmillan after seeing a number of the photographs. The poem later appeared on the poster which promoted the exhibition.
You stare at us, and we gaze back
and its as though
you are looking into a mirror
we can tell you things
about yourself
and like a mirror
we tell the truth
Many thanks to the courageous children, parents and staff who shared these intimate, sensitive and private moments with me in the midst of a busy hospital.
[SCH01] Ann Pearce and her baby Cathryne age 6 weeks. Cathryne has a metabolic disorder.
[SCH02] Jonathan Maher age 4 years and Jenny Martin age 5 years are children from Ward 3. They have received chemotherapy for leukaemia and are now in remission.
[SCH03] Zoe Clarke age 3 years. Zoe is recovering from a road traffic accident.
[SCH04] Mother and Daughter from Ward 7.
[SCH05] This boy has received treatment in the Plaster Room for a broken arm.
[SCH06] Father and baby son from Ward 6. The child has received minor medical attention.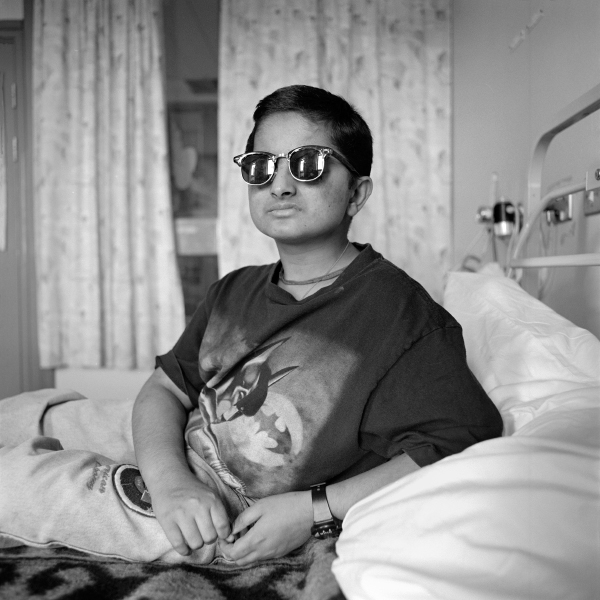 [SCH07] Azador Hussain age 13 years has a metabolic disorder.
[SCH08] Carl Murden age 16 years and his mother. Carl is a Downs Syndrome patient.
[SCH09] Mother and son in A & E with a minor injury.
[SCH10] Damien Tolhurst age 11 years in the games storage room. He is a post bone marrow transplant patient.
[SCH11] Pamela Moorhen age 8 months and nurse Pat Smith. Pamela is recovering from an operation for a cleft palate and hair lip.
[SCH12] Mother and daughter going home.
[SCH13] Yasmin Lodge age 5 years with her father. Yasmin is receiving ongoing treatment for leukemia.
[SCH14] Amy Heald age 2 years and her mother Simone. Amy has been diagnosed with cancer and is now receiving chemotherapy.
[SCH15] Holly Potter age 13 years and nurse Jenny Brown. Holly has had a tracheostomy.
[SCH16] Mathew Devy age 4 weeks old and mother Lydia. Mathew is awaiting an operation for a cleft palate and hair lip.
[SCH17] Mother and child from Ward 4.
[SCH18] Amy Dixon age 3 years has had her milk teeth removed and is recovering in day care.
[SCH19] Nigel Rider age 16 with his son Ryan age 2 months.
[SCH20] David Turton age 7 years old and his mother Jane. David is receiving chemotherapy.
[SCH21] Jill Fearn and Toby age 6 months awaiting treatment in A & E.
[SCH22] Nurse Kathryn Holmes and Hamama Yafai age 6 years. Hamama's leg was broken in a road traffic accident.
[SCH23] Amina Ali age 10 years and a student nurse. Amina suffers from epilepsy.
This residency was financially supported by Yorkshire and Humberside Arts and the Alex Laing Trust.
All images are Strictly Copyright © 2018 Bill Stephenson All Rights Reserved