The Dial House Sports and Social Club, Sheffield 1983
These photographs were taken during the summer months of 1983. This work was commissioned by David Watt from the Brewery Arts Centre, Kendal as part of a number of photographic assignments under the collective title of 'And The North'.
The premise of these commissions was to 'investigate and present any aspect of Northern life, to go beyond the first impression and re-evaluate the myths, preconceptions and prejudices of the given subject'.
During the late 70's and early 80's, as in common other post industrial cities Sheffield was in a deep recession. The Thatcher government elected in 1979 had embarked on a savage rationalisation programme in an attempt to reduce over capacity within the steel industry which had been in slow decline for decades. The inevitable consequences of this policy was the closure of large steel making facilities, leading to high levels of unemployment and monumental changes in the social fabric of working class communities dependant on the steel industry.
It is with this background in mind that I wished to portray and reevaluate the role working men's club (WMC's) play, placing 'the club' at the centre of a community, a cohesive force that defines who and what they are. The assumption was that WMC's and the communities they serve are under threat and are likely to change forever. The aim of this project was to record a working men's club; the club members, club trips, the entertainers, and every day activities of a thriving WMC.
In 1983 there were over 150 working men's club's in Sheffield. After visiting several I approached The Dial House Sports and Social Club located in the council housing estate of Wisewood and presented my photographic proposal to the Club Secretary, Frank Emes and Committee Members. Without question they allowed me unlimited access to all areas of the club. The only exception being I was not allowed to photograph any acts while they performed on stage. Their generosity and self confidence in allowing this was something I appreciated during my time at the club.
As the steel industry further contracted throughout the late 1980's and 90's, high levels of unemployment and low incomes led to the fragmentation of the Wisewood community which inevitably affected the club membership, placing it under severe financial pressure. The club eventually became unviable and closed in 2005, it is now part of a housing development called Dial House Court. A focal point for a community and a bastion of live entertainment lost forever.
This photographic exhibition has been exhibited widely throughout the UK, including the Club and Institute Union, London headquarters.
The Dial House Sports and Social Club exhibition contains 3 interviews recorded on tape and later transcribed. The project is further divided into 3 sections, the club members, the club trips to Blackpool and Skegness and the entertainers.
Wikipedia's entry for the Dial House WMC can be viewed at //en.wikipedia.org/wiki/Dial_House,_Sheffield
These photographs were taken using a Nikon F3 camera, 28mm lens and Mecablitz-45 CT-1 flash gun.
All images are Strictly Copyright © 2017 Bill Stephenson All Rights Reserved
Interview with Frank Emes – Club Secretary, May 1983
"I first became a member in 1940 on my 18th birthday. My main interest in joining the club was playing sports; cricket, football, bowls and snooker. I've been on the club committee 26 years now, I was concert secretary and the club vice president for 12 years. I was elected club secretary in 1971 and was never knocked off.
There are about 2,500 card carrying gents members and about 500 ladies. We have about 26 bar staff and 16 committee men, that is me, the president, vice president, 3 trustees and 10 committee men. We pay our dues and demands to the Club and Institute Union, Barnsley branch of 1p per member per year, plus a £25.00 annual fee to the London branch.
The club supports itself from over the bar, plus some help from the tombola and one-arm bandits. The recession hasn't affected us half as much as I thought it would do. Compared to some clubs we're holding our heads well above water, which is a good thing to say these days. A lot of clubs had to shut down mainly because they hadn't been paying VAT or the rates, and once they can't pay for the beer, the brewery will cut them off. We have a good relationship with our brewery, well, we sell about 30 barrels week.
I think the Dial House has a very good future, we're not just the cloth hats and tombola image like some clubs, we've just got floodlights for the bowling green and are planning to re-carpet the area around the dance floor in the concert room."
Interview with Kirsty Stevens – Club Entertainer, June 1983
"I've been entertaining since I was fifteen, just before I left school and I'm twenty now. I'm a female vocalist, I dance and try to enjoy myself at the same time.
When I first started in Working Men's Clubs it was a lot different to what it is now. Everyone had money, now people can only afford a few drinks, so they are not getting merry and therefore not getting into the atmosphere. They can't afford a taxi so they dash off early for the last bus. This makes the club's suffer. They might have had three acts a week, now they only have one. The acts get less money, the club's get less money all because the people have got less money.
My favourite entertainer is Liza Minelli, I like the way she struts about and commands people. I also like Olivia Newton-John because she tries to be soft and warm, so I try to be soft and warm but commanding at the same time. What I would like to do if I'm honest is to sing in films, do acting and singing. I've been described as outrageous, different, skimpy, but most of all a 'leggy blonde'.
After I've done a really good concert I feel great, I feel big, its hard to sleep and I re-live the night over and over. But then I come down to earth thinking about the tombola or what the chairman said. The best night I ever had was at Leeds Rugby Club about three years ago. It's not a big spicy club, it's not brilliant, it's homely, but it was the people that made the night, some of the people at the front really made me like them."
Interview with Stan Mathews – Club Member, May 1983
"My late father in law introduced me to the Dial House and I have been a member for 29 years this June. What I like about the club is the beer, friends I know and great company. I never look at the entertainment or go on trips, I am just a bar flower.
I started my working life as a locomotive fireman, worked on trams, a bus conductor and then at the steel works, where I was made redundant. I have had to cut down coming here to about five nights from seven. I used to come here seven nights and seven dinners.
I'm a Stones drinker I'm afraid, I don't pass anybody else's beer, just Stones. The biggest change I've noticed since I have been coming here is really the price of beer. Two or three years ago I used to drink 12, 13, 14 pints a night, but not now. Some nights the bar steward used to keep count, he used to get to 13 and give it up as a bad job. If I'd a hangover I'd see the doctor.
The best time of the year is Christmas. I like a good fling and the Club's full. I remember when Freddie and the Dreamers played here one Sunday night, they were queuing round the Club, up the road and down the first on the right. We've had Showaddywaddy, Humperdinck…"
[WMC 001] The Dial House Sports and Social Club, November 1983
The Club Members
[WMC 002] Tombola night in the concert room. Playing tombola was taken seriously with significant prize money available, large wins were common. It was particularly popular with male club members.
28.05.83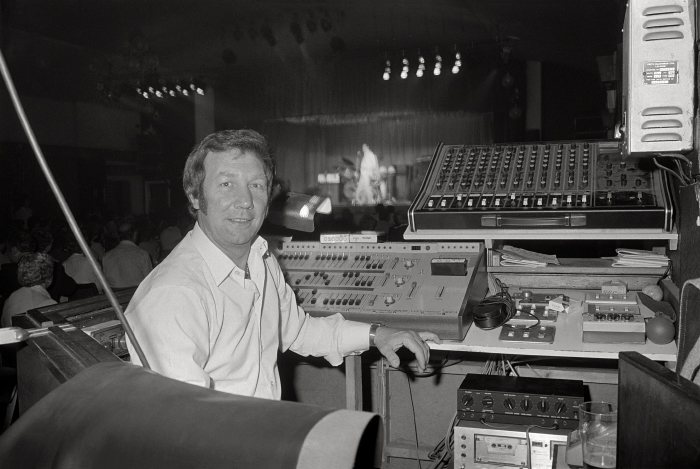 WMC 003 Mick Ellis, Concert Secretary and Compere in the lighting and sound booth.
04.06.83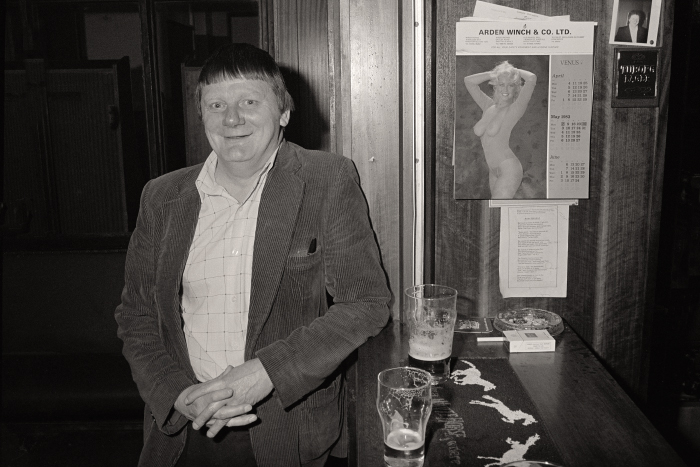 [WMC 004] Stan Mathews a club regular in his usual spot (see interview).
20.05.83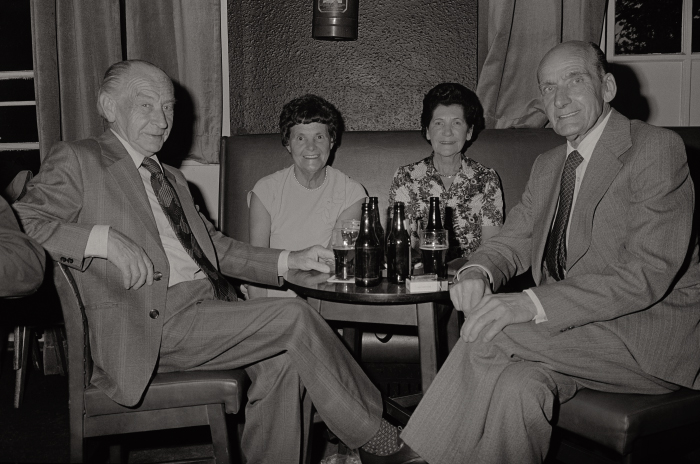 [WMC 005] Couples 'dressed in their best' enjoying a Saturday night drink in the concert room.
26.06.83
[WMC 006] Club regulars at the 'Olde Tyme Dancing' night. Many relationships were formed at social events run by the club.
26.06.83
[WMC 007] Couple by the recently installed flood lit bowling green.
13.06.83
Presentation nights were regular and important events at the Dial House. Everyone connected with a sporting activity run by the club was either a winner or runner up and received a trophy of some kind. This was important in helping forge a cohesive bond between the club, its membership and in particular encouraging the involvement of children in the clubs activities.
[WMC 008] The 'Star Cup' snooker tournament winners and runners up.
15.06.83
[WMC 009] Sheffield Rangers under 10's football champions with their trophies.
15.06.83
[WMC 010] Various champions and runners ups with their trophies.
15.06.83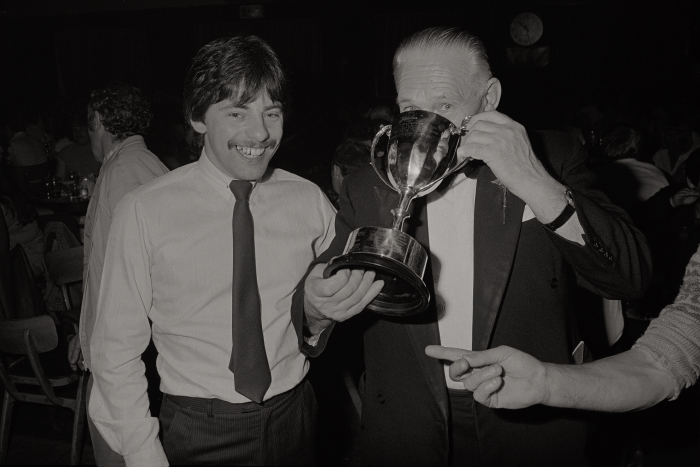 [WMC 011] The 'Jubilee Cup' 1983 billiards champion celebrates.
15.06.83
Senior Members Trip To Blackpool. 22nd June 1983
The Senior Members day trip to Blackpool was a widely anticipated annual event each year. 10 coaches transported over 500 members to the resort. As with the Kids Day Trip to Butlin's Holiday Camp, Skegness, the trips were free of charge to all members and their families, funded I was told from profits made from the popular Sunday lunch time exotic dancers and stag comedian. For many this was the only 'holiday' they would have each year.
[WMC 012]   6.45am. Senior Members search for their allotted coaches.
[WMC 013]   Senior Members board their coach.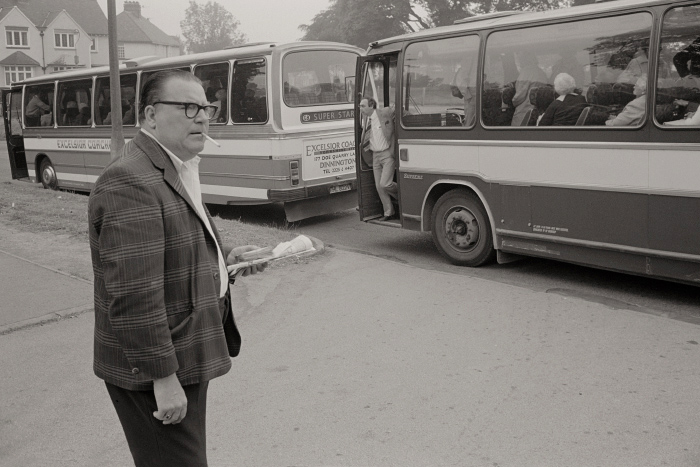 [WMC 014]   7am. Club Secretary Frank Emes waits for late arrivals to board prior to departure (see interview).
During the trip each coach played tombola throughout the journey, balls were drawn and called from a portable tombola set at the front of the coach, these numbers were then repeated and shouted further down the coach by another senior member.   
[WMC 015]  Committee man Keith Chapman shouts the numbers to a 'caller' in the middle of the coach.
[WMC 016]  Tombola numbers called by Keith are repeated and shouted further down the coach.
[WMC 017]  Mr and Mrs Percy Bludworth at the Hartshead Moor Service Station, M62, a mid-way stop en route to Blackpool.
[WMC 018]  Ken and Vic Whittles at the Blackpool coach park.
[WMC 019]  Female Senior Members and friends are 'photo bombed' by Committee men at the coach park.
[WMC 020]  Kissing couple at the CIU affiliated Blackpool WMC. Many Senior Members walked from the coach park directly to the Blackpool WMC and stayed there drinking until it was time to return home.
[WMC 021]  Ralph, Mick and myself on the log flume, Blackpool Pleasure Beach.
Kids Trip to Butlin's Holiday Camp, Skegness. 17th August 1983
As with the Senior Members trip to Blackpool, this was also an eagerly awaited day trip. Free to members families and funded from the Sunday lunchtime 'Stag Comedian and Exotic dancers'. Over 300 children plus their mothers, grandmothers and Committee men made the trip to Butlin's Holiday Camp, Skegness in 8 coaches.
[WMC 022]  Travelling in convoy across Lincolnshire, we are in coach number 6.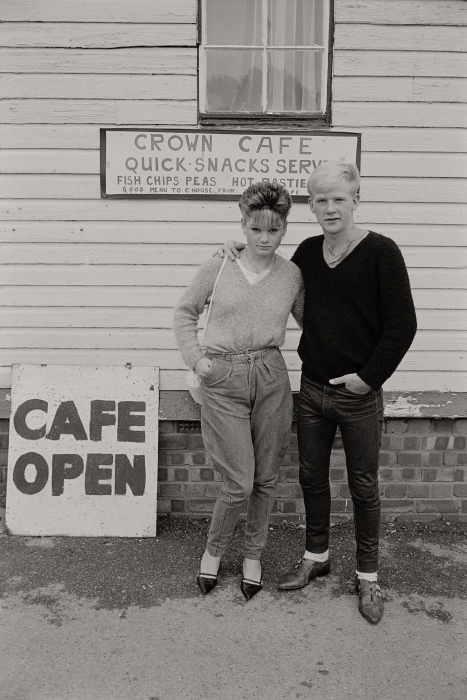 [WMC 023]   Young couple pose outside the Crown Cafe. The Crown Cafe was a mid-way stopping point en route to Skegness.
[WMC 024]  Women and children queue for the ladies toilet at the Crown Cafe.
[WMC 025]  Girl in the Crown Cafe coach park.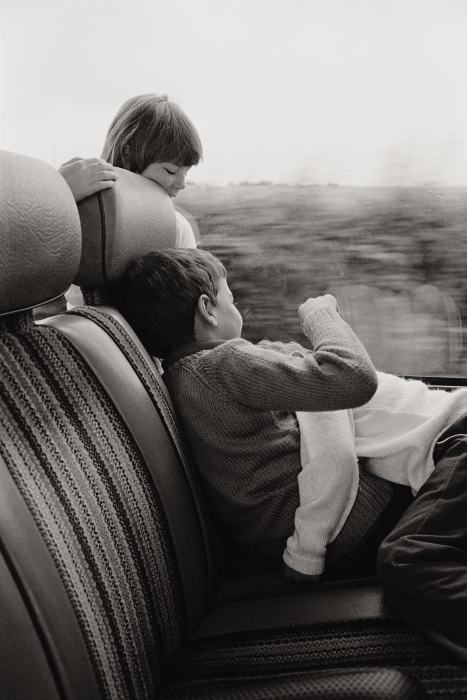 [WMC 026]  Kids fighting on the coach.
[WMC 027]  The kids stop fighting as we approach Butlin's Holiday Camp, Skegness.
[WMC 028]  Committee man Keith Chapman, babysits at a Butlin's Holiday Camp bar.
The Entertainers
Live entertainment at the Dial House was one of the defining joys of club life for myself and many club members. To sit in the stage wings behind the side curtains watching the acts preparing to go on stage and performing was always a pleasure.
WMC's gave the opportunity and outlet for aspiring entertainers to entertain. All hoped to work in TV or the theatre, most did not make that transition, they were however able to make a small but regular living doing what they loved. Originating from the Victorian Music Hall tradition of being able to drink alcohol and smoke while watching a show, the Dial House offered live entertainment at least 3 nights a week. They were entertained by singers, dancers, musicians, impersonators, comedians, magicians, ventriloquists and exotic dancers.
[WMC 029]  The Two Terry's. The club's resident house band playing electric organ and drums.
04.06.83
[WMC 030]  Audition Night. Collar and Tie are about to make their first public performance. They are a teacher and civil servant hoping to break into the entertainment business.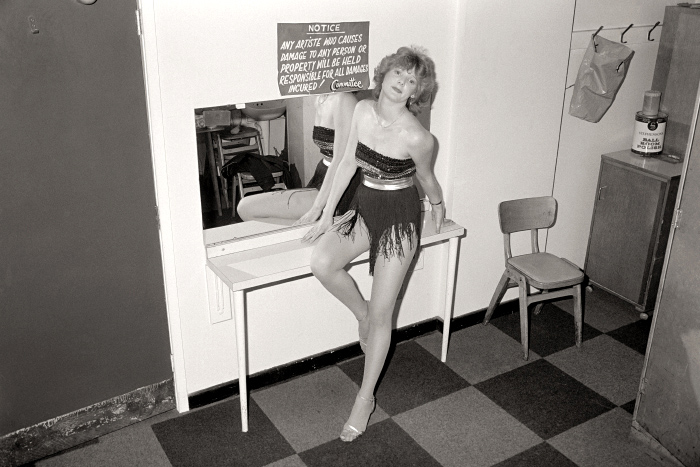 [WMC 031]  Kirsty Stevens real name Lesley Sommers. Kirsty is a popular vocalist and dancer and is still performing today (see Interview).
06.06.83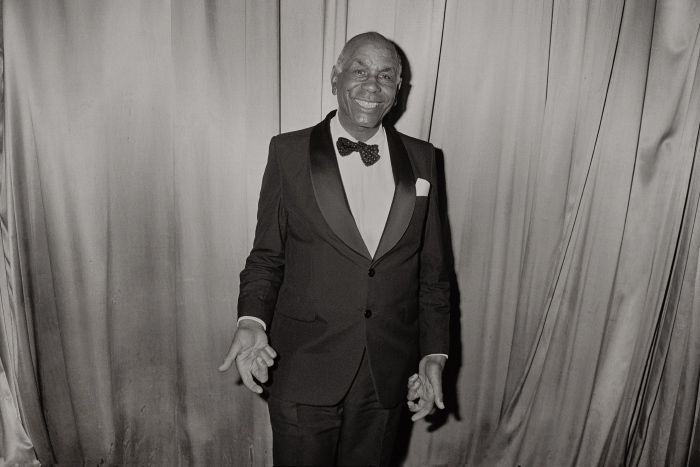 [WMC 032]  'Astor', is a veteran WMC comedian who has been performing in club's since 1936. Originally from Teeside now living in Doncaster, his flyer describes himself as 'the north's original coloured comedian' and being of no relation to Lord and Lady Astor.
22.06.83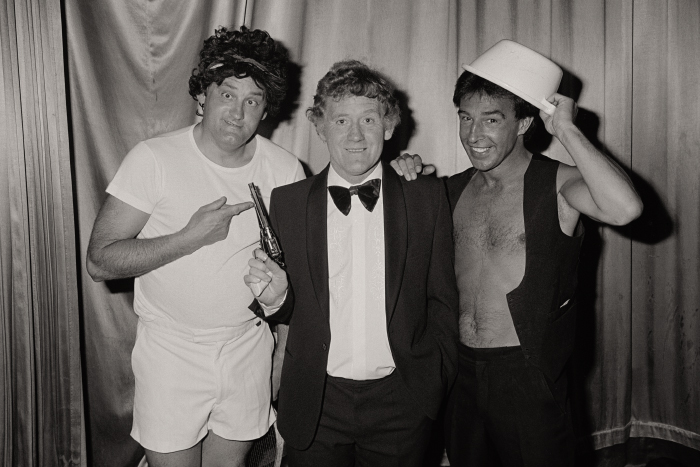 [WMC 033]  The Three Discos.  A comedy trio of impersonators, perhaps the most popular comedy club act at the time. They were well known for their quick turnarounds impersonations of John McEnroe, Bing Crosby, Shirley Temple, Humphrey Bogart, Phil Oakey and many others.
15.06.83
[WMC 034]  Sophia Loren, vocalist and dancer. She said she had decided to use 'Sophia Loren' as her stage name as she bore such a striking resemblance to the Italian actress.
22.06.83
The Sunday lunchtime performance usually consisted of 4 'exotics' and a stag comedian. This was an important money maker for the club, the profits of which were used to fund the Senior Members trip to Blackpool and the Kids Trip to Butlin's, Skegness. The club was usually full to capacity as the Dial House regulars were bolstered by visiting members from other clubs travelling by coach.
The 'exotics' were striptease artists, but disliked the term and always wanted to be known as exotic dancers. Whenever the word 'stag' was used it meant 'men only' entertainment. The exotic dancers always came from another town or city, none came locally from Sheffield as they did not want to recognised by friends or family. They would be booked to perform in at least 3 clubs throughout the city over the Sunday lunchtime period, having a driver or boyfriend race them between clubs.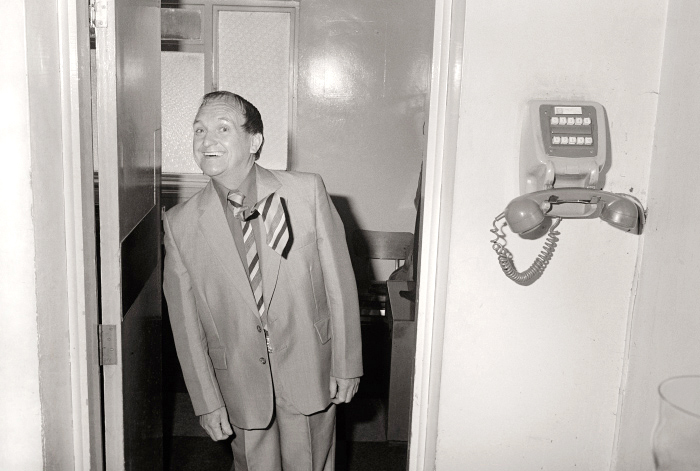 [WMC 035]  Wee Georgie Wheezer, a Welsh stag comedian and compere living in Mansfield. Wee Georgie was able to inflate his tie at appropriate moments throughout his and the exotic dancers routines.
12.06.83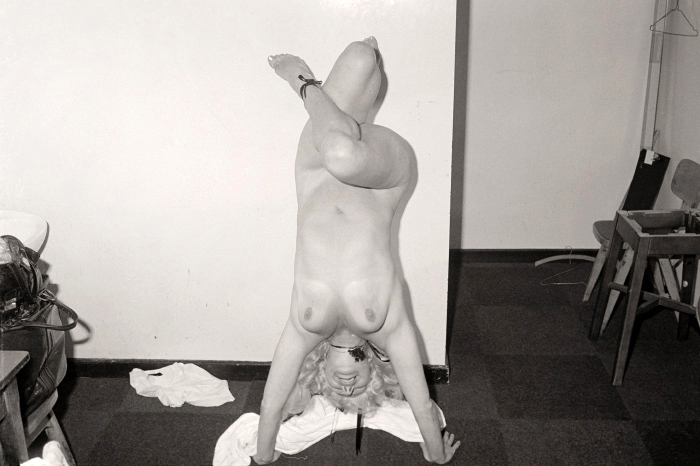 [WMC 036]  Samantha, an exotic dancer from Leeds. She had just come off stage and to the surprise of myself and others performed a handstand in the artist changing room.
12.06.83
[WMC 037]  Heidi, an exotic dancer also from Leeds. The subject of her performance was an unlikely homage to the Sound of Music.
12.06.83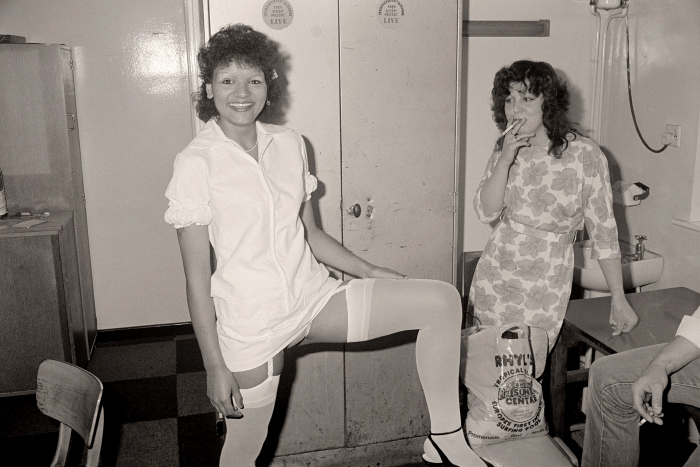 [WMC 038]  Cindy, an exotic dancer from Rhyl, with her friend and driver. Her acts theme was the ever popular 'sexy nurse'.
19.06.83
[WMC 039]  Deloris, an exotic dancer. Her performance theme was that of harem girl and belly dancer from the 'mysterious east'.
05.06.83
All images are Strictly Copyright © 2018 Bill Stephenson All Rights Reserved